What's your favorite place in the entire world? That's a tough one. On the one hand, I'd say Long Beach on the border between Rockport and Gloucester, Massachusetts, where my aunt and uncle have a beach house. Love it! On the other, I visited Winchester in the UK in August of 2010. I was only there for 3 days, but it felt like coming home. Seriously. If I believed in reincarnation I would say that I had lived at least one lifetime there before. Hey, maybe I was Jane Austen!
How has your upbringing influenced your writing? I actually had a pretty crappy childhood. My dad abandoned us when I was 6, then took my two older half-brothers to live with him when he remarried a witch. Then my Granddad, who I adored, died suddenly. And then I developed agoraphobia and struggled through adolescence as the least popular kid in the class who was the butt of a lot of bullying. Lovely, right? So I turned to books and writing as a means of entertainment, escape, solace, you name it. I started writing when I was 10 years old and never stopped. I discovered romance novels when I was 15 (thank you to my high school BFF, Jessica!) and that was pretty much the end and the beginning of that! My Mom, God rest her soul, was always so supportive, even though she didn't understand my creativity. I'm just sad that she passed away in 2001, before I was ever published.
Do you recall how your interest in writing originated? I think I've always been interested in writing, ever since I learned to spell the giant word "grasshopper" in 1st grade.
How long have you been writing? I have been writing since I was in 3rd grade and realized one day that I didn't have to wait for the teacher to assign a creative writing project to write something. And yes, the first story I remember writing was more or less a romance novel about a boy I had a crush on.
When did you first know you could be a writer? I don't think there was ever a time when I didn't think I could be a writer. Like I said before, I grew up in a family of artists and creative-types. Writing was tame compared to what some of them did.
What inspires you to write and why? Love. That's it really. My own romantic life is so pitiful that I love writing about people falling in love and ending up together in spite of the odds. That and writing is like breathing to me: I can't imagine not doing it without dying.
What genre are you most comfortable writing? The easy answer to that is Romance. But I also really like writing Science Fiction. I always seem to write love stories, no matter what I write, but there are so many complexities to life and so many situations I can imagine people falling in love in that I need to explore.
What inspired you to write your first book? Don't laugh, but I started writing my first published novel, The Loyal Heart, after hearing that the guy I'd broken up with 6 months before (who I was convinced I was going to marry) had just gotten engaged to someone else. I was devastated and really needed a story about someone who remained true to love, even when the odds seemed impossible.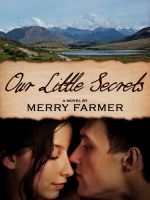 Buy Now @ Amazon & Smashwords
Genre – Western Historical Romance
Rating – R
More details about the author & the book
Connect with Merry Farmer on Facebook & Twitter
Website http://merryfarmer.net/